Dengue-Blocking 'good' Mosquitoes Released in Brazil
RIO DE JANEIRO: Brazilian researchers have freed a batch of mosquitoes infected with a dengue-blocking bacteria they hope can combat the tropical disease naturally.
Scientists at the Rio de Janeiro-based Fiocruz research institute are taking part in a global project to release the mosquitoes. Similar action has already taken place in Australia, Vietnam and Indonesia.
The mosquitoes released on Wednesday are infected with the Wolbachia bacteria that can block them from getting the highly infectious disease dengue and passing it to humans.
It's hoped the bacteria will be passed through generations of mosquitoes and eventually wipe out the insects' ability to spread dengue.
Some scientists estimate that around 390 million people get dengue each year.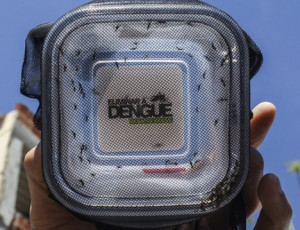 (Aedes aegypti mosquitoes with the dengue-blocking Wolbachia bacteria are seen inside a container before being released at the Tubiacanga neighbourhood in Rio de Janeiro. Photo: Reuters)
Dengue causes extreme joint pain and headaches, though it usually isn't fatal. There is no cure.
Source: AP
Error: Contact form not found.