PM Modi Hopes against Hope, Calls for Impossible Action
PM inaugurates 2-day "Call to Action Summit-2015-ending preventable child & maternal deaths
PM Modi Hopes against Hope, Calls for Impossible Action
New Delhi, August 27:  With only 4 months to go, India is perilously close to missing Millennium Development Goals on infant mortality, maternal mortality and immunization coverage rates.
But PM Narendra Modi today gave a shove to the renewed efforts, hoping that India might make it to assigned goals in time. This puts enormous pressure on the health ministry to race against time to fulfill PM's 'Mann Ki Baat'. He was inaugurating 2-day 'Call to Action Summit-2015-ending preventable child & maternal deaths'.
Among the 24 participating countries, India, Nigeria, Democratic Republic of the Congo, Pakistan and Ethiopia contribute to more than 50 percent of child deaths worldwide. MGD target for reducing infant mortality rate is 27 per thousand live births. MGD mandate expires in 2015 December.
In his rather rambling speech, PM said, 'Keeping aside the work that still needs to be done, there have been significant achievements on the global front in the area of maternal and child health. Looking at the big picture, we find that in 1990, India's under-five mortality rate stood at 126 while the global average was 90. In 2013, this figure dropped to 49 against a global average of 46. Therefore, the gap to the global average reduced from 36 points in 1990, to just 3 points in 2013 reflecting that India has achieved under-five mortality rate decline at an accelerated pace compared to global rate of decline. What this translates into is this: India is likely to reach close to achieving the MDG target if the current trend of annual decline is sustained.
The Summit is organized by Ministry of Health and Family Welfare, Government of India and the Ministry of Health, Government of Ethiopia.
Prime Minister further said after the victory over Polio India has achieved another major milestone recently. India has eliminated maternal and neonatal tetanus. The validation for this has happened much before the global target date of December 2015 and it gives us the confidence to achieve other targets well before the target date.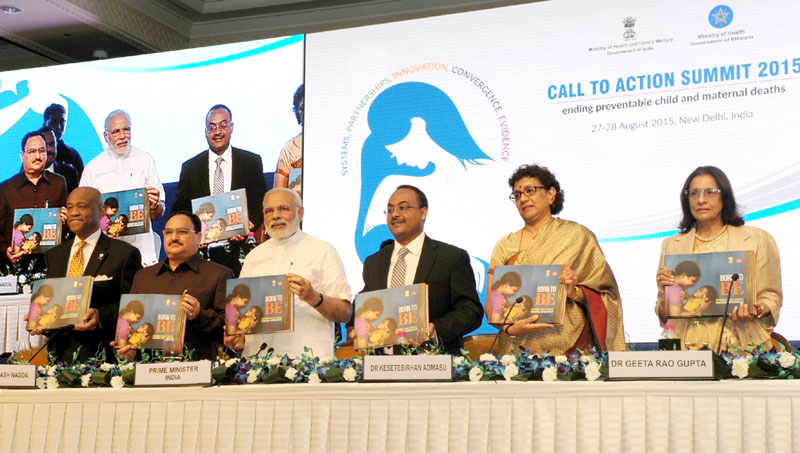 The Prime Minister stated that while every country present here has something to offer, India also has a wealth of experience. India has done well in many ways and would be extremely happy to share its experience with other countries. He said that India would be happy to assist any country with technology, systems strengthening and program me implementation capsules. He added that we could train personnel and skill them for better management of child sickness in our Special Newborn Care Units (SNCUs) as well as share our experience at home based new born care. India's rich experience in Universal Immunization and particularly its experience this year with the "Mission Indradhanush" could be shared with all the countries. He further added that we had offered this to SAARC countries earlier. He said, "Today I repeat this offer to all countries present here. This will be apart from our offer of support for Polio eradication".
Speaking at the occasion, Shri J P Nadda, Union Minister for Health and Family Welfare drew attention to the impressive practices India can share with other countries. He renewed India's pledge and commitment to ending preventable mother and child deaths. The Health Minister stated that the PM has guided the country towards bolder targets in Reproductive Child Health (RCH). He stated the "e-mamta" scheme of Gujarat has been scaled up to the Mother and Child Tracking System (MTCS) at the Centre.
The Health Minister said that the Prime Minister's vision of the "Swachcha Bharat Abhiyan" has a direct influence and impact on health outcomes in the country. Substantial progress has been made in under-five Mortality Rate, Infant Mortality Rate (IMR) and Maternal Mortality Rate (MMR), he noted. "Mission Indradhanush" is another important initiative of the Health Ministry which intensified immunization drive in the country with the aim of accelerating the current increase in annual rate of immunization from the existing 1% to more than 5% per year. It is time to build on our achievements and strengths.