NCR Doctors with You, for You, Always
Doctors caught compromising ethics will no more be saved by IMA
NCR Doctors with You, for You, Always
Delhi, December 31: The new leadership of allopath doctors has come up with a slogan of sorts- Doctors with You, for You, Always.
The same kind of slogan adopted by Delhi police long ago flew in the face of cop community. Doctor community, once invested with godly virtues, is grappling with the same bad image problem that of cops. So much so that Aamir Khan almost painted them as villain in his famed program Satyamev Jayate. Doctors also urgently need a makeover of image. Hence, Central Council of IMA (Indian Medical Association), the apex association of over 2 lakh Indian allopath doctors, in its meeting last week in Ahmadabad, has given its new leadership a mandate to refurbish the image of doctors.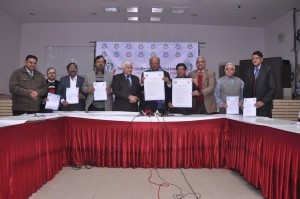 Dr. K.K. Aggarwal, the new Secretary General, who joined the head office of IMA on 30th of December with fanfare, unveiled the new leadership's road map for augmenting the sagging image of the doctor community. On this occasion, Dr. Aggarwal promised a revamp of doctor's image and, on the line of Modi's Swachha Bharat Abhiyan (Clean India Campaign), to clean the veritable Augean Stable that medical profession has become with allegations of cut, commission and corruption resorted to by doctors and health providers. Dr. Aggarwal also brings with himself a dose of spirituality, religion and reverence for alternative system of medicines.
Talking to media persons after officially taking over, Dr. Aggarwal said, 'the impression has gained ground that IMA more often than not comes to the rescue of black sheep in the profession. Central Council in Ahmadabad has given us clear mandate not to countenance misdemeanors like cut, corruption and commission by them. We would be ruthless to them and they would have no place in the organization. We would undertake Swachha IMA campaign. IMA team will also come up with comprehensive code of conduct'
Dr Aggarwal says, 'IMA will have a focused public orientation and community participation.  IMA will offer help to them who have none to fall back upon. A total of 365 new initiatives will be launched for the welfare of the people. IMA will shine and rise. The impression has also gained that doctors happen to be egoist and rude. To instill soft skills into doctors we have decided to hold a number of programs and tutor them the virtues of behaving well with patients. MCI has also decided to add soft skills in the new medical curriculum. We would also tutor doctors Bio-ethics.'
Both President, Dr A Marthanda Pillai& GS, Dr KK Aggarwal are padma awardees. Citing padma tag, Dr. Aggarwal said, 'two padma awardees being at the helm, people could look forward to IMA turning a new leaf marked by it being community centric rather than just doctor centric. Dr. Pillai addressed head quarters and answered questions of health writers through telecon because he could not catch plane due to delay because of an urgent surgery. He expressed his concern over reduction of Rs 6000 crore in the health budget of the new government and escalation of drug prices.