Union Health Minister JP Nadda has started counting his Calories
Smartphone way of healthifying India (SwasthBharat)
Union Health Minister JP Nadda has started counting his Calories
New Delhi, May 1: Union Health Minister J.P. Nadda, by his own admission, is very health conscious. Now he has got a handy tool to live up to it.
If Nadda ate aloo paratha (potato stuffed bread) in the morning, the web app 'Healthifyme' he is armed with would religiously guide him how to balance it in lunch. Minister Nadda took the pledge to use it and declared it a very useful tool for swasth Bharat. Nadda will be tracking his calories to keep them within limits and this is what is needed for all to keep life style diseases at bay.
This was disclosed on April 30 in a press conference by Tushar Vashisht, CEO, healthifyMe, a web app, world's first and largest Indian Calorie tracker, which allows users to track their food, exercise and weight, easily via their smart phone or computer.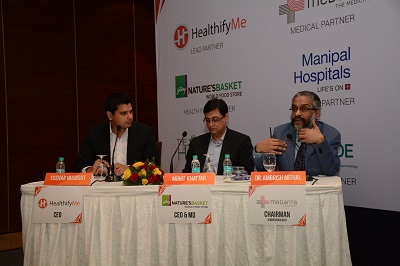 Only the paunchy would know where the fat pinches. Tushar Vashisht, former investment banker in New York, realized this the hardest way when he came to India to join UID project. He put on lot of weight and was desperate to shed them at the earliest. With guidance from his fitness-freak friend Mathew Cherian, Tushar could finally shed 15 kg in 9 months and exclaimed – good riddance! This became the 'Aadhaar' of creating healthifyme app for making India a healthy country.
While talking to Meditoall editor in chief dhananjay, Tushar said, 'Had I not joined UID (Unique Identification Data), I would not have tumbled upon the idea of this 'Unique' web app. Though I had to undergo through rigor of shedding extra weight that I had put on but the effort was worth it.'
HealthifyMe.com helps attain a healthy life along with gaining points and rewards for engaging in healthy behavior.
Tushar further says. 'Our aim is to make healthy living in India easy and affordable. HealthifyMe helps you track your calories. Ours is the first Indian calorie tracker.'
Tushar adds, 'Its smart advice feature will tell you what to eat. Points you earn will translate into real world benefits like some free gym sessions or some other rewards.'
Recently awarded Padma Bhushan, Dr Ambrish Mithal, Chairman – Medanta Division of Endocrinology, Medanta – The Medicity, Padma Bhushan finds this app very useful and need of the hour. Dr. Mittal says, ' Chronic lifestyle disorders like diabetes, obesity and heart diseases are affecting the younger generation, and are the biggest health challenges facing India. Management and prevention of chronic diseases, especially diabetes and obesity, require emphasis on patient participation. Tools like HealthifyMe not only guide patients on a continuous basis while interacting with healthcare teams but also improve adherence and compliance, which are the keys to success in management.'
Dr. Subhash Kumar Wangnoo Senior Consultant Endocrinologist and Diabetologist at Apollo ACODE said, 'Lifestyle related diseases like diabetes, hypertension, obesity are on the rise due to the increased caloric intake and lack of physical activity. Increasing number of patients being diagnosed with these problems are children, adolescents and young adults. In this era of information technology, the 'Swasth Bharat' campaign will go a long way to keep the people motivated, so as to bring about the desired changes in the lifestyle to prevent and manage these chronic illnesses.'
HealthifyMe has started in partnership with Godrej Nature's Basket, Manipal Hospitals, Medanta – The Medicity, Apollo Centre for Obesity, Diabetes and  Endocrinology (ACODE) and TheHealthSite.com. The industry initiative signals an ambitious plan to move a million Indians to embrace a healthy lifestyle by year end and to scale that number up to a crore in next three years.
The partners are jointly offering approx Rs 100 Crores in products and services to the cause to anyone who takes the HealthifyIndia or Swasth Bharat pledge. To take the pledge anyone can go to HealthifyIndia.com or download the HealthifyMe app. Once you take the pledge, you get more than Rs. 1,000 worth of products and services from the industry partners to enable him/her achieve that pledge.
There are 60 million diabetics and over a 150 million hypertensive people in India. As the corporate culture in India grows, these diet and fitness related diseases are growing to epidemic proportions. Even the government has taken note of this and has reduced the BMI for the overweight limit to 23 and 25 as the limit for being obese as Indians as more prone to weight related diseases.
HealthifyMe allows one to –
Track your diet – Simply key in the food that you had and it gives you a calorie count and nutritional information of the food that you've just eaten. This is quite accurate with respect to Indian food; we even got nutritional information for Palak Paneer and Jeera rice on it. Based on some initial information that you key into the system, the system suggests a set number of calories that you must consume and each of your entries are entered against the limit. Furthermore, based on your food entries, the system also suggests what you should eat next.
Log your exercise – This is quite basic, wherein you can enter the details of your exercise and it will tell you the amount of calories that you've burnt and remove that from the daily tally of calories that the system tracks.