Dr. Harsh Vardhan Shifted; J.P Nadda is the New Union Health Minister
Dr. Harsh Vardhan Shifted; J.P Nadda is the New Union Health Minister
New Delhi, November 9: Dr. Harsh Vardhan was shifted to other ministry and Jagat Prakash Nadda has been brought in as new Union health minister. J.P.Nadda is MP from Himachal Pradesh. Considered very close to PM Modi, Nadda is also the general secretary of the party. Nadda was already working as a shadow Health Minister.
It is alleged that the controversial action of removing whistleblower CVO at AIIMS by outgoing health minister Dr. Harsh Vardhan (now Science and Technology minister) was taken at the behest of Nadda. Nadda will be having tough time facing this issue himself as Union Health Minister. Sanjiv Chaturvedi had unearthed a record number of corruption and financial scams in his two years at the country's premier hospital. There are letters which Nadda wrote to health ministry to remove Chaturvedi and he had also demanded suspension of further probe in the corruption cases. This issue will really prove a sticky wicket for Nadda.
Dr. Vardhan had recently landed in a controversy over corruption issues in AIIMS and Medical Council of India (MCI). He had removed a CVO and whistleblower in AIIMS, Sanjiv Chaturvedi, who had initiated probes against many corruption cases. Dr. Vardhan had apparently done it at the behest of J.P.Nadda. CVO issue was like a thorn in Dr. Vardhan's flesh. A Mr. Clean till Dr. Vardhan became Union Health Minister; his image was dented later on as he was seen on the side of the corrupt. He was over and again dragged in this controversy. When he was accosted with this issue, he would really cut a sorry figure. In fact, his shifting is a good riddance for him. Sources close to him say that due to this controversy, it was Dr. Vardhan himself who had pleaded that he be shifted to other ministry.
When Dr. Vardhan was made health minister, the hope floated that he would cleanse the health system and the country will be in for a pink of health but he proved to be a dud. He proved unequal to the tough task at hand and good for nothing. Plus, he got entangled in IMA politics and became leader of one group of doctors.
MCI is a tough call to deal with for any Union Health Minister. A union health minister is unequal to medical lobbies which are always at loggerheads in trying to dominate MCI. Dr. Ketan Desai from Gujarat is a formidable force in MCI. He is arraigned against equally formidable medical lobby Manipals which during UPA rule got Dr. Desai framed in a shady corruption case and sent to jail. Now, he has been given clean chit by judiciary.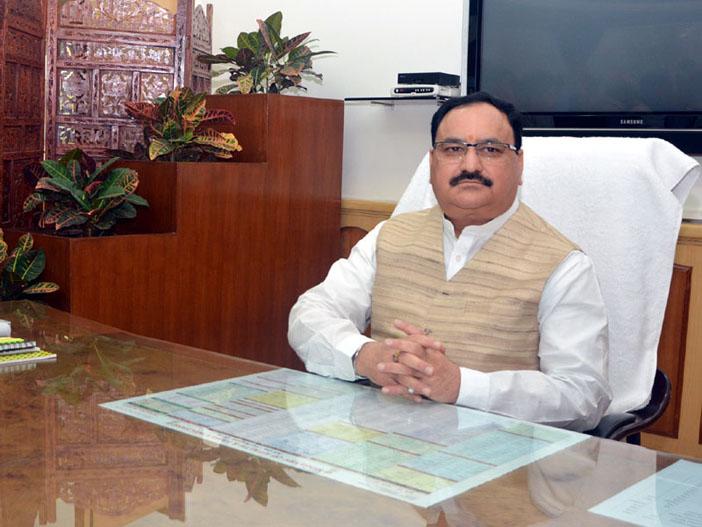 J.P.Nadda takes charge as Union Health Minister