Indian Medical Association Endorses 'Dream' Water
Kent gets 'Sabse Sudh Paani' 'tag' even by medical body
Indian Medical Association Endorses 'Dream' Water
New Delhi, May 12: Notwithstanding film 'Gabbar is Back' painting doctor community dirty, Bollywood's 'has been' dream girl Hema Malini has paired with its biggest trade union Indian Medical Association for purity.
This 'chemistry' between IMA and Hema Malini has made Kent RO filtered water the only dream water available under Indian sun to keep all water borne diseases at bay. Hema Malini has long been flaunting it as 'Kent Deta Hai Sabse Shudh Paani' in TV advertisement.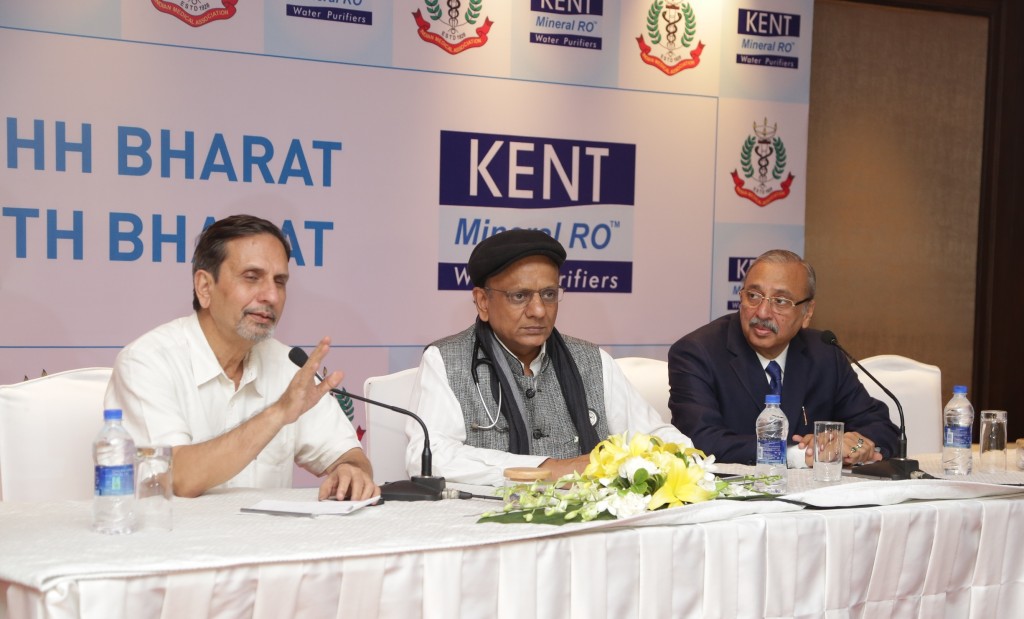 Though IMA has declared Kent RO filtered water completely free of all disease causing parasites and soluble materials, it has denied endorsing Kent RO water filter system and has said it has joined hands with Kent RO only to educate the masses about the urgent need to prevent water borne diseases. In a press conference on Tuesday (May 12), IMA Secretary General Dr. K. K. Aggarwal said, 'this collaboration will become the most crucial component of Swachh Bharat Swasth Bharat campaign. So far clean water issue has been left untouched. This campaign will bring down diarrhea deaths by half in the country.'
Dr. V.K. Monga, MCD's former in Charge of MCD's Health Administration gave Kent RO purifier a thumbs up saying boiled water is no alternative to Kent RO purified water because boiling can not free water of all impurities while Kent RO does. Referring to a survey when he was MCD's health committee chairman, Dr. Monga said, 'no matter what Delhi Jal Board does, people of Delhi can not get healthy water to drink unless they filter it in home. Though there is nothing wrong in water treatment system of Ja Board, its filtered water gets contaminated while reaching consumers through faulty pipe system. So I prescribe that government water also must be filtered in home before drinking'
Dr. Aggarwal further said, 'The Indian Constitution under Article 47 makes it one of the primary duties of the State to provide clean and safe drinking water to its citizens. Yet 3 lakh children in India die due to diarrheal diseases every year before the age of 3, a condition that is completely preventable by the elimination of unsafe drinking water. Through our association with Kent RO, we aim to reduce the number of deaths caused by water borne diseases through mass awareness drives and educational initiatives.'
Speaking about the partnership with IMA, Mr. Mahesh Gupta, Chairman and Managing Director, Kent RO Systems Limited said, 'We are pleased to get associated with the IMA Swacch Bharat, Swasth Bharat program aimed at ensuring availability of clean and healthy drinking water across the country. It is missions extremely close to our hearts and we at Kent understand the intrinsic relationship between access to clean and safe drinking water and a healthy India.  We hope that through this partnership we will be able to raise awareness about the issue and make a difference in the society.'
According to the World Health Organization, water-borne diseases account for around 4.1% of the total global disease burden causing over 1.8 million deaths annually. 88% of this is attributed to unsafe water supply, sanitation and hygiene. Realizing the need to raise urgent awareness nationally about the prevention of water borne diseases with a focus on safe water consumption, the Indian Medical Association and Kent RO group today announced a partnership under the 'IMA Swachh Bharat Swasth Bharat' campaign.
The Indian Medical Association announced that they will be adopting a model slum area in Delhi NCR where a community RO plant will be placed for a period of 6 months to study its impact in the reduction of water borne diseases.
Some key facts released on the occasion included:
70% of the Indian public has no access to safe drinking water
Infections transmissible by contaminated water include diarrhea, typhoid, hepatitis A and E
Drinking contaminated water can lead to the transmission of parasitic infections
One should avoid consuming tap water, ice made from tap water, and raw food rinsed with tap water to avoid disease
Chlorination kills most bacterial and viral pathogens, but protozoal cysts of Giardia, lamblia, Entamoeba histolytica and oocysts of Cryptosporidium may survive.
Boiling water is the most palatable solution to water purification if sanitary storage is feasible and other purification methods are not available. It is advised that water must be boiled for one to three minutes and then cooled to room temperature to kill bacteria, parasites, and viruses
What does boiling water mean: Heating it at 70°C for 30 minutes, 85°C for 5 minutes, 100°C for 1 minute, and 110°C for 1 minute
Adding two drops of 5% bleach or five drops of iodine extract to a quart of water will kill most bacteria after 30 minutes. The addition of iodine or chlorine to water can impart an unpleasant taste.
Filtered, RO or UV treated water is safer for human consumption.
Kent RO's technology using RO + UV treatment eliminates bacteria, dissolved impurities, cysts, pesticides, spores, and viruses. It's a double purification process, which is more effective in purifying water, if used as a combination instead of being used independently and makes water purer than boiling.
Dhananjay Kumar